Eggplants and szechuan pepper.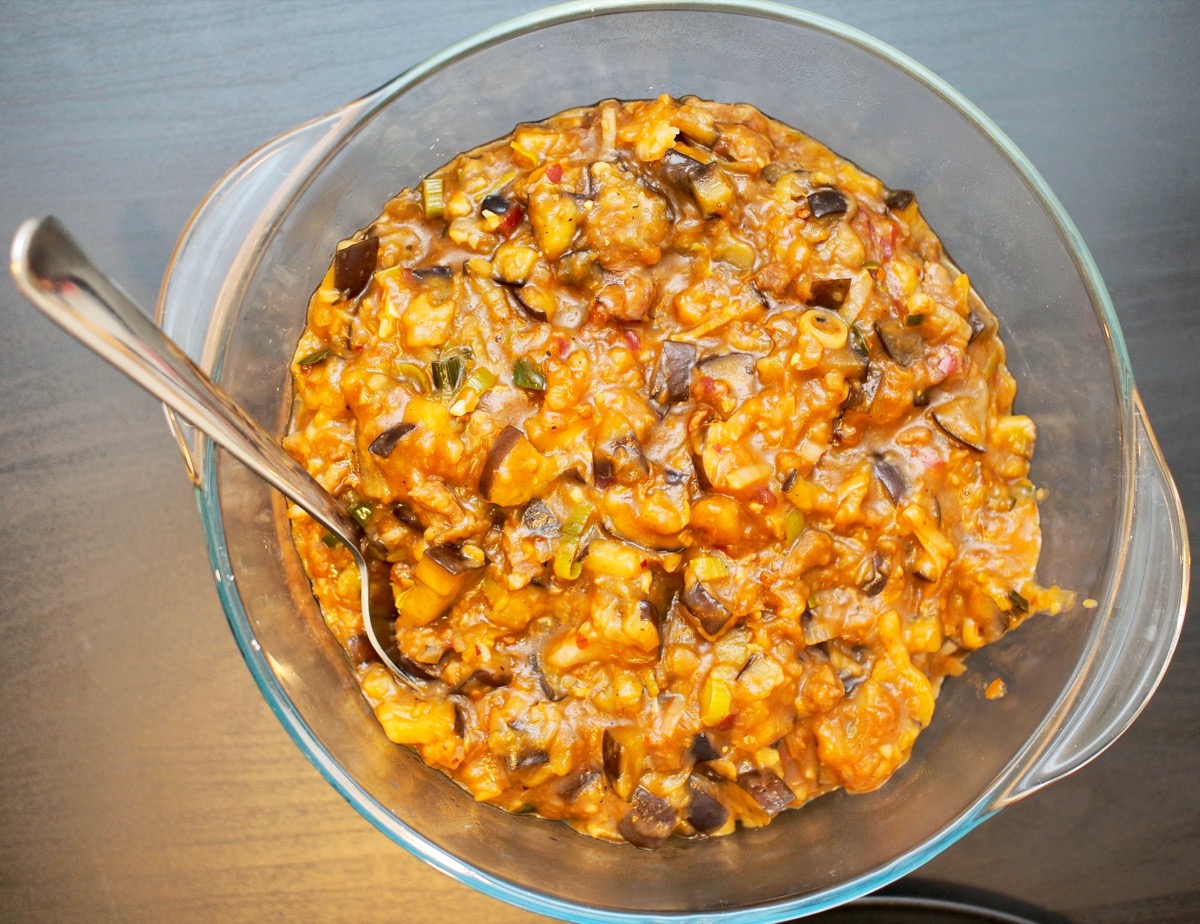 Ingredients
1 large eggplant, cut into strips
1 tsp salt
3 tsp cornstarch
2 tsps light soy sauce
1 tbsp Chinkiang Vinegar (black rice vinegar)
1 tsp Shaoxing wine
2 tsps sugar
2 tbsp peanut oil
1 tbsp minced garlic
1 tsp minced ginger
100 grams ground pork
1 tsp Doubanjiang (chili bean paste)
2 fresh Thai chili peppers, chopped (or 1 pepper for less spicy dish)
Preparation
Add eggplant and salt into a large pot of water and mix well. Place a lid on top of the eggplant to keep it submerged in the water. After 10 to 15 minutes, drain the eggplant and dry it thoroughly with a paper towel. Sprinkle 2 tsp cornstarch over the eggplant and rub it by hand to coat all eggplant strips well.
Combine light soy sauce, vinegar, Shaoxing wine, salt, sugar and 1 tsp cornstarch in a small bowl, mix well, and set aside.
Heat oil in a big nonstick skillet over medium high heat. When oil is hot, after about 2 minutes, carefully add eggplant and stir fry until the eggplant turns soft and golden brown on the outside, 5 to 6 minutes.
Transfer eggplant to a plate and set aside.
In the same skillet, add oil, garlic and ginger, and give it a stir. Add ground pork and stir fry until surface of pork turns white, about 1 minute.
Add Doubanjiang and continue stirring constantly until pork mixes with the paste and turns dark red, about 1 minute.
Add Thai pepper and eggplant and give it a stir. Evenly pour the mixed fish fragrant sauce (from step 2) over the eggplant and stir immediately to mix everything well, for 1 - 2 minutes.
Serve warm with steamed white rice.