Substitute fresh with frozen beans, and you have the fast food version which does not have much to be jealous of the original version.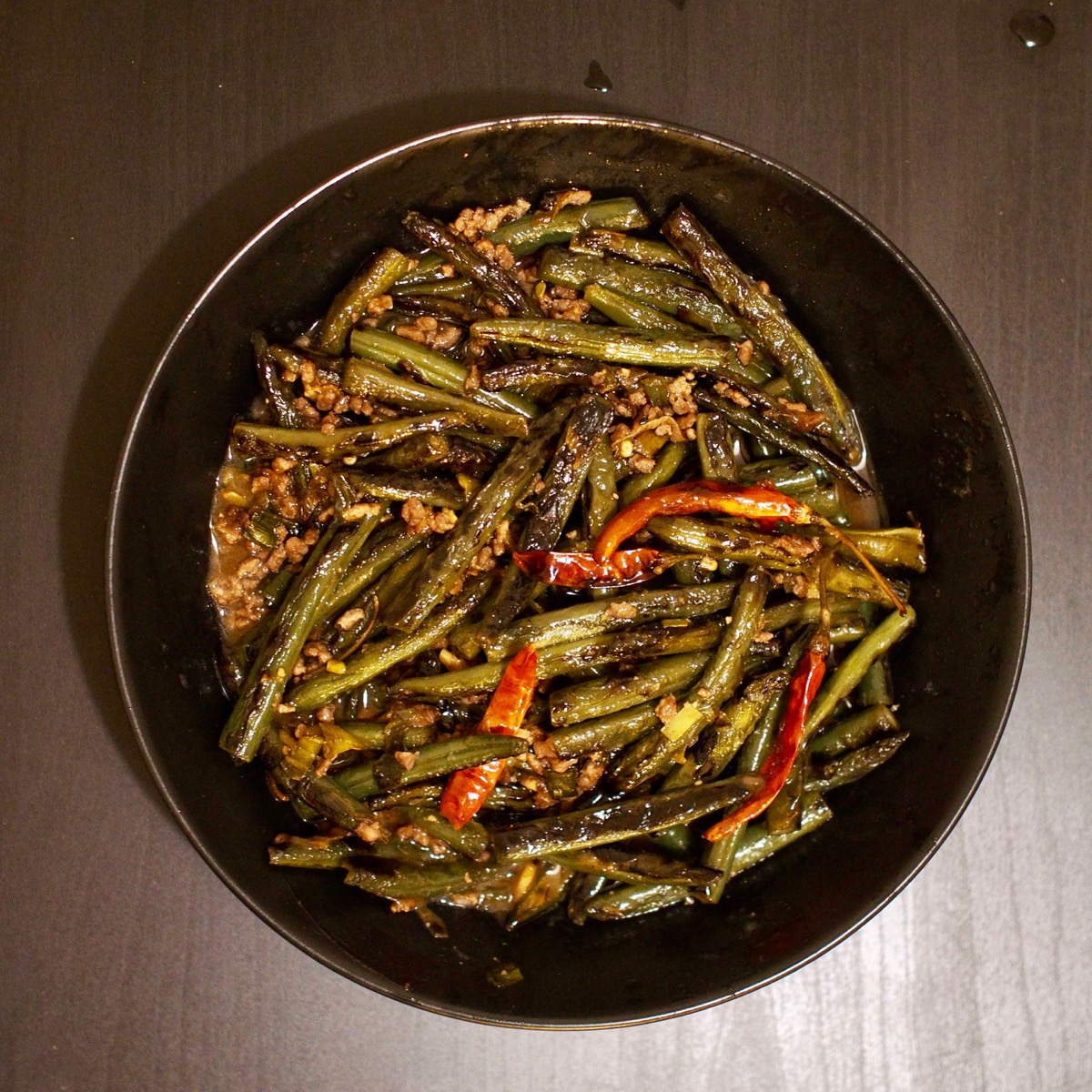 Ingredients
Some Shaoxing wine or Chinese cooking wine
2 teaspoons soy sauce
1 teaspoon sugar
1/2 teaspoon chicken stock
Soy sauce
100 gr ground pork
1 teaspoon cornstarch
3 tablespoons vegetable oil
320 gr green beans, removed ends, cut to 2-3
3 dried chili peppers
6-7 Szechuan peppercorn
1 tablespoon minced garlic
1 tablespoon chopped green onion
1 teaspoon minced ginger
Preparation
Combine shaoxing wine, soy sauce, sugar, chicken stock and salt in a small bowl and mix well.
Dry green beans well with a paper towel.
Combine cornstarch with ground pork and mix well by hand.
Heat oil in a frying pan. Add green beans and stir well to coat with oil. Arrange the beans on the bottom of the pan so that many are in contact with the bottom. Flip occasionally so that all sides are heated evenly. When the surface of about half is brown and withered (10 - 15 min) transfer beans to a plate, saving the oil in the pan.
Add the rest of the oil in the pan. Add chili pepper and Szechuan peppercorn. When the spices become fragrant, after about 15 seconds, immediately turn to lowest heat and carefully scoop peppercorns out with a long-handled spoon and discard. Turn to medium high heat, add green onion, garlic and ginger, and stir until fragrant.
Add pork and stir-fry, separating the ground pork into small bits. Pour in the rest of the cooking wine and stir constantly.
When pork is cooked through and slightly browned, add fried green beans. Then, pour in the spice mixture from step 1, quickly stir and mix everything well for a few seconds.
Turn to lowest heat, and taste a green bean. Add soy sauce to taste.
Serve warm.