This is a classic example of a simple, yet wonderfully tasty pasta recipe.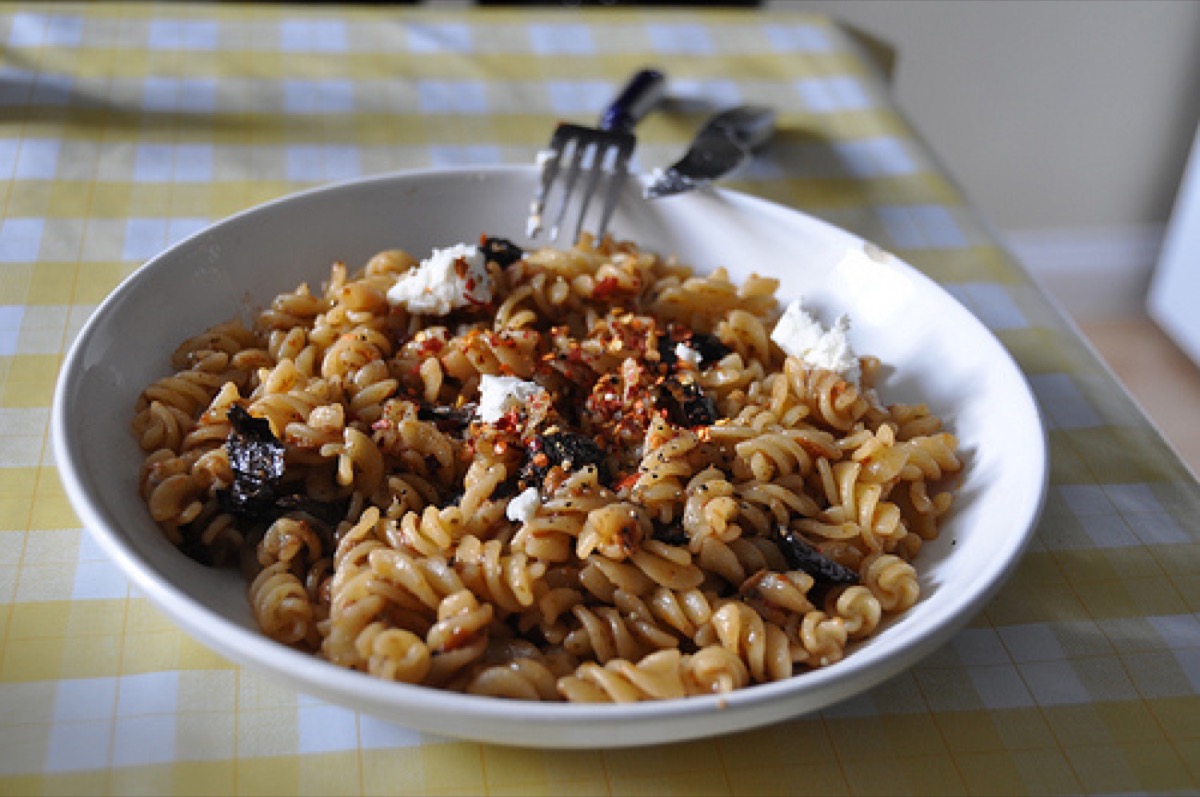 Ingredients
500 g. pasta (fusilli, farfalle, or any other short pasta you like)
1 jar of red pesto sauce
Salty black olives (ideally not the flavourless, pitted ones you find in jars)
1 beef stock cube
Parmesan (alternatively, pecorino or grana padano)
Goat's cheese
Salt, pepper, and red chilli flakes (for serving)
Cooking procedure
Using a sufficiently large cooking pan, add the beef stock cube in plenty of boiling water. Add the pasta, and boil according to pack instructions (between 8-11 mins, depending on how 'al dente' you like it). Drain, but not thoroughly: make sure you leave a very small amount (equivalent to 6 large spoonfuls) of the beef-flavoured, gluten-rich boiling liquid in the pan. Return to the hob, turning the heat to moderate. Add the pasta and red pesto, and mix well for about 5 mins (until there is no more liquid in the pan). Add the black olives, which you have previously lovingly and patiently pitted. Remove from the hob and serve immediately.
While the pasta is still very hot on the plates, add freshly grated parmesan and large chunks of goat's cheese (Welsh goat's cheese is best). Finish with plenty of pepper and, if you can handle it, chilli flakes. Enjoy the yummy, nourishing result!
Caramelised onions and/or fried mushrooms would make excellent accompaniments to the olives. The flavour can be further enhanced with herbs (fresh or dried basil, perhaps a little bit of oregano too). The dish is elevated to heavenly status, if consumed with a glass of red wine (Cabernet Sauvignon or Merlot)!