A nutty/spicy chicken, also known as Gong Bao Jiding.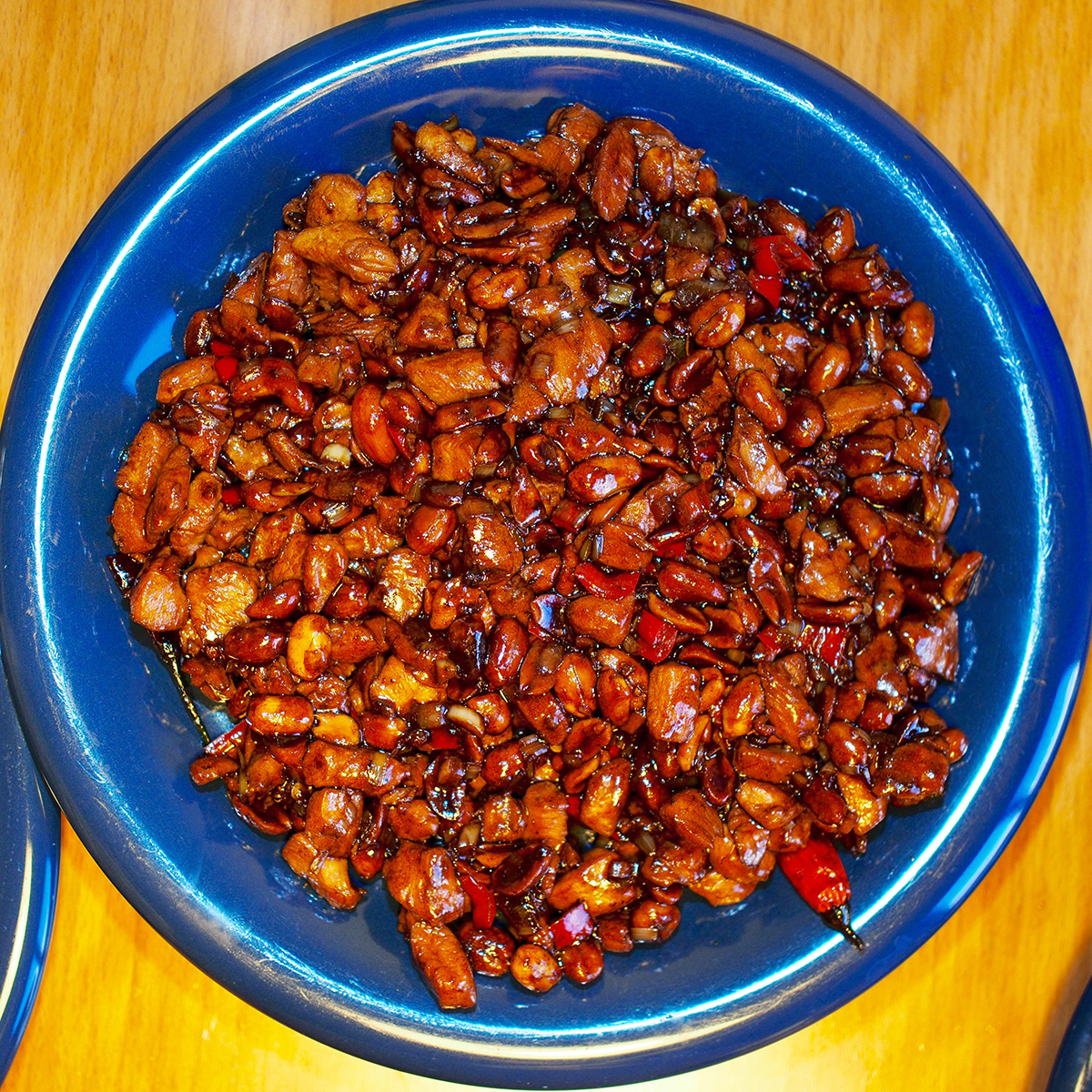 Ingredients
1 Tbsp starch
4 Tbsp soy sauce
500 gr boneless/skinless chicken breasts, cubed
3 Tbsp shaoxing (Chinese rice wine)
2 Tbsp sugar
3 Tbsp chicken stock
1 Tbsp sesame oil (optional)
4 tsp chiangang (Chinese black vinegar) or balsamic vinegar
2 tsp Chinese dark soy sauce
3 Tbsp peanut oil
6-12 dried hot red chiles, seeded (based on how spicy you can handle)
5 spring onions, white part only, thickly sliced crosswise
1 clove large garlic, peeled, ends trimmed off, and thinly sliced
1/2 cup shelled raw skinless peanuts
1 cube piece of ginger, peeled and minced
Preparation
Mix together starch and 1 Tbsp soy sauce in a medium bowl, add chicken, toss well, and set aside to marinate for 30 minutes.
Mix together the remaining 3 Tbsp soy sauce, rice wine, sugar, chicken stock, vinegar, sesame oil (optional), and dark soy sauce. Set aside.
Heat peanut oil in a pan over high heat until just beginning to smoke. Add chilies, half the spring onions, garlic, ginger, and chicken and stir-fry until chicken is golden, 3-5 minutes.
Add soy sauce mixture and stir-fry until sauce thickens, about 2 minutes.
Stir in peanuts. Garnish with remaining spring onion.